I think summer officially showed up here this week. It's been hot and humid and that means I've been craving summer eats like crazy. I tend to eat much lighter in the summer. Which, you'd think, I'd drop some weight because of it, but I just replace all the heavy foods of winter with beer in the summer. Ha! Balance!
I was sitting out on the front porch drinking some coffee and my incredible husband showed up with breakfast! He put together this beautiful yogurt bowl for me: Greek yogurt, strawberries, raspberries, apricot, raisins, cherries, hemp seeds, oats, PB2, and almond meal.
For lunch, I had one of my
radish green toasts
, plus a side of salad and a nice, cold glass of lemonade. It was so warm by lunch time! I also had a piece of chocolate for lunch dessert that managed to escape the eye of the camera.
After I spent a few hours out in the heat mowing, Craig and I took a break on the porch to snack on some tortilla chips and drink some shandys. Such a perfect summer drink!
Dinner was fish tacos! If you follow us over on
The Broken Plow
(our DIY, homesteading and gardening blog) you know that we've been catching fish out of our lake. It is so nice to have a hyper-local source of fresh fish. Along with the tacos, I made a strawberry cucumber salsa with the fresh strawberries we got in our CSA this week. SO yum! That recipe is coming your way soon. Alongside, I had a beer. Because you can't have tacos without cerveza, right?
As always, big thanks go out to Jenn at Peas and Crayons for hosting this fun food-filled party we have every week. If you guys haven't clicked over to the main WIAW post yet, you should! There are so many fun eats and so many new blogs to discover. You could lose a handful of hours just discovering new friends and foods!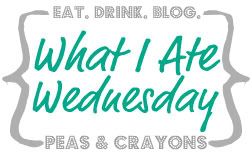 What's the best thing you've eaten so far this week?
MY OTHER RECIPES