I feel like I'm in a serious food rut. I know 99% of it is due to the season, but man, I'm dreaming of the days when I can make caprese salads out of fresh heirloom tomatoes and basil from the garden. I'm jonesin' something fierce. I know I could make a caprese anytime I want, but for a caprese to be really incredible, I feel like it needs really incredible basil and really incredible tomatoes and that just doesn't happen until July. Mostly, I think I'm just wishing for fresh, light foods. I'm sick of pulling things from the freezer or the pantry. I'm overloaded on carbs. Someone bring summer, fast!
I tried my hand at making a kefir bowl (as opposed to a yogurt bowl). It was good, but the kefir is a little too…cheesy…to work well in this form. I still ate it, of course. Along with the kefir, I had Grape Nuts, a clementine, some strawberries, some chia seeds and some sunflower kernels.

I wasn't really in the mood for lunch-lunch, so I pulled together a snacky tasting plate for lunch. A rye crisp with some peanut butter, some carrots, a few tomatoes, a hard-boiled egg, some roasted chicken, a slice of cheese, half a banana and a few apple slices.
Tea time! I've gotten in the habit of pausing my day early each afternoon, sipping on some tea and doing a bit of reading. It's nice.
I made us a big batch of hummus, and I had to do some quality control, so I made a little plate of crackers and veggie dippers for an afternoon snack.
I realized Babyface was working late and dinner was still hours away, so I whipped myself up a smoothie. In the mix: kefir, banana, peanut butter, chia seeds, unsweetened protein powder.
Dinner was some cheese tortellini from the freezer, topped with some homemade alfredo and garlic-sauteed kale. It sounds pretty delicious, but it was actually pretty meh. Too heavy and (if there is such a thing) too cheesy for me. Considering my deep-seated love for all things carbs, pasta and cheese, the fact that I couldn't finish this bowl is definitely a sign I'm ready for spring and lighter fare.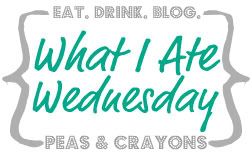 What's the best thing you've eaten so far this week?
MY OTHER RECIPES