My gosh, I am feeling really great this week, friends! I took this weekend "off" from work and instead focused on spending some relaxing time with my favorite Babyface, Puppyface and Kittyface (and, let's be honest, getting lots of work done around the property). Come Sunday evening, I started to feel a little guilty about shucking my responsibilities all weekend long, but by the time Monday rolled around, I was refreshed and ready to be my most productive self. It's amazing what a couple of days off can do for the soul! I gotta do that more often.
It also meant that I carved out some time this weekend to do lots of food prep and make sure that things were in tip-top shape for a healthy food week. Seriously, if you are feeling overwhelmed about healthy eating, I urge you to think about devoting a few hours on the weekend to food prep. Not to sound dramatic, but it's changed my life.
Alrighty, enough with the theatrics, on my eats from this past Monday…
Breakfast was a little smorgasbord of items from my food prep stash: hard-boiled egg, sliced apples, blueberry pie bar (adapted from this recipe) and a homemade fruit-on-the-bottom yogurt. More on that guy later this afternoon.
For lunch, I put some tuna salad on my beloved rye crisps (four ingredients, 40 calories each, whole grain, totally delicious). Alongside, I had some chopped veggies (kohlrabi, carrots and sad looking celery) a pear and a square of dark chocolate for lunch dessert.
You know I couldn't pass up the opportunity to test out a bowl of my Coconut Milk Banana Pudding, so I dove into a scoopful for an afternoon snack. I also snacked on a rogue vanilla wafer or two as I was assembling the pudding.
I had a lot of computer work to do that evening, so to make things more interesting, I poured myself a beer. I am definitely one of those creative types that does better work when she has a bit of booze in her system.
Dinner was some reheated leftover veggie spaghetti (with all kinds of yummy veggies in the sauce) and a side salad with lettuce, carrots, feta and a yogurt caesar dressing. Worth noting, I ate all of my meals on this day at my desk. Which is not a habit I'd like to get into. I'm going to issue myself a challenge for the rest of this week to eat away from my desk. Take a break! Enjoy a meal!
As always, big thanks go out to Jenn at Peas and Crayons for hosting this fun food-filled party we have every week. If you guys haven't clicked over to the main WIAW post yet, you should! There are so many fun eats and so many new blogs to discover. You could lose a handful of hours just discovering new friends and foods!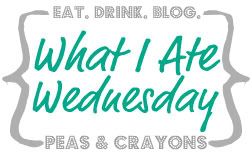 What's the best thing you've eaten so far this week?
MY OTHER RECIPES