One of the things that took me a while to learn with healthy eating is that it isn't about all-or-nothing. Sometimes you're not going to eat the healthiest. Sometimes you're going to eat really healthy. And, in fact, I kinda feel like that yin-and-yang diet is the healthiest kind of all. It's the kind of diet that lets you enjoy cookies at Christmas and zucchini in the summer. Usually it's a pretty organic process, but sometimes, I find myself playing catch-up from a day of not-so-stellar eating. Take Monday for example, I was swamped and when I'm swamped, I do a terrible job at making and eating food—not eating much is one of my stress reactions. Not really picture of health, but it is what it is.
So, on Tuesday, when things had settled down a bit, I made up for my day of lack-luster eating. I made sure to pack in tons of fresh fruit, veggies and whole grains and really feed my body well! Onto the eats…
Craig did a good job of setting me on the right path and brought me a yummy bowl of Grape Nuts, almond milk and lots of fruit for breakfast. We got a giant box of Grape Nuts at Costco a few weeks back, and I am definitely doing my part to put a dent in it. Yum!
For lunch, I dumped out two of my salads-in-a-jar and then topped them with some sliced cherry tomatoes, chickpeas, and some sprouted lentils. In the original jar was dressing, quinoa, red onions, celery, blue cheese, and romaine. I am so not usually a salad person, but this was delicious and filling!
I was craving something sweet after lunch, so I had a banana and two dates as my lunch dessert.
In the afternoon, I whipped up a batch of guacamole to have with dinner, and of course, had to sample some myself with some homemade baked whole grain coconut tortilla chips. That recipe is coming your way this afternoon. Yum!
Of course, I had more guacamole with dinner—portabella fajitas! These were incredible. So yummy! And the recipe will be coming your way later in the week. Inside the tortillas are marinated portabella, sautéed peppers and onions, guacamole, salsa, black beans, Greek yogurt and cilantro. Yum!
As always, big thanks go out to Jenn at Peas and Crayons for hosting this fun food-filled party we have every week. If you guys haven't clicked over to the main WIAW post yet, you should! There are so many fun eats and so many new blogs to discover. You could lose a handful of hours just discovering new friends and foods!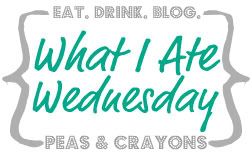 What's the best thing you've eaten so far this week?
MY OTHER RECIPES