For those of you that have been kicking around here for a while, you know that for the longest time, we had pizza every, single Friday night. It was tradition for us! When both Craig and I were working full-time, it was a great way to celebrate the upcoming fun of the weekend. But then our schedules got crazy. I started working from home some days and then I started working only four days a week and then, for the past few weeks, we've not been going to work at all. So our standing pizza night has kinda fallen by the wayside. Weeks will go by and one of us will say, "Oh wait, we haven't had pizza in a while!" Craig started his new job this week, and I'm hoping we eventually get back into a more set schedule, and with that, a standing pizza night! But for now here's our eats from Monday, pizza included. Pizza was delicious (as always) but it just isn't a Monday night kind of food, is it?
I started off the morning with a mug of Blueberry Green tea. It's quickly overtaking Jasmine Green to become my favorite green tea. The blueberries add so much sweetness to it! I love it.

Breakfast was an egg, sausage patties and goat cheese on a homemade bun. On the side, I had half a grapefruit and a glass of milk
In the morning, I snacked on a hard-boiled egg, some veggies, a clementine and two peanut butter cookie date balls.
Lunch and afternoon snack were rolled into this big honkin' smoothie. In the mix: frozen bananas, plain whole-milk kefir, frozen strawberries, unsweetened protein powder, chia seeds and ground flax. I managed to freeze my bananas at the perfect ripeness this week, so this smoothie was super yum!
Pizza night! I did a beer crust with feta, red onions and pesto on top. Anyone else like to slice their pizzas into tiny slices? It always makes me feel like I'm eating more. I had these three little slices, plus a side salad of lettuce, spinach, red onions and sunflower seeds. There was also a small pour of beer that escaped being photographed. Annnnd, I definitely snagged another slim piece of pizza when I realized I was still hungry.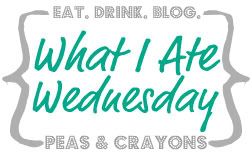 What's the best thing you've eaten so far this week?
MY OTHER RECIPES